Deprecated
: Function create_function() is deprecated in
/home/ar15/public_html/wp-content/plugins/wordpress-23-related-posts-plugin/init.php
on line
215
Deprecated
: Function create_function() is deprecated in
/home/ar15/public_html/wp-content/plugins/wordpress-23-related-posts-plugin/init.php
on line
215
Deprecated
: Function create_function() is deprecated in
/home/ar15/public_html/wp-content/plugins/wordpress-23-related-posts-plugin/init.php
on line
215
If you already know a little something about the Rise Armament trigger, you probably want to know if it will make an ideal choice for your rifle. Changing out your trigger can be a bit nerve-wracking because the last thing you want is to get out into the field with a weapon that won't fire when you need it to.
That's why we looked at this trigger's unique qualities, how it looks compared to other triggers in that price/feature range, and whether or not it's worth your money.
This is a drop-in trigger, so we will also be looking at the benefits of choosing one of those compared to a standard trigger. We will also be measuring up the quality to pricing ratio, making sure that you are getting enough decent features for the money you are paying for it.
Another aspect we will be considering is what specific type of shooting this trigger would do best with, so it is important to keep in mind what you will be using it for.
Let's get started!
What is the RA-140 Rise Armament Trigger and How Does it Work?
So let's get to the nuts, bolts, and springs of this brilliant trigger so that you can see just how much of a difference it will make to your rifle.
With 30 plus years of experience under their belts, you can't expect anything less than excellence from a Velocity Triggers trigger.
Remember, a trigger is one of the most important components of your rifle, after all, it is the only thing between you and a perfect shot.
Rise Armament AR-15 Ra-140 Rave Super Sporting Trigger
Buy Securely at Brownell's
Drop-In Versus Standard Triggers
Not sure if you want a drop-in or standard trigger?
Let's take a look at the differences between the two systems.
Standard triggers have control groups that consist of several different parts. You have the trigger, trigger spring, hammer, hammer spring, disconnector, and disconnector spring.
For the actual installation process, you will have to put together these parts and place them into the lower receiver with two pins.
For mil-spec triggers, these are the most commonly standard systems. So these tend to have more availability. They are also considerably cheaper than drop-in units. One other plus side to a standard design is the fact that each individual part can be easily replaced if one breaks.
Drop-in triggers offer completely self-contained fire control groups. Actually setting up and installing these triggers is much simpler because everything is put in together as one piece. You just place them into the rifle and secure them with pins.
Rise Armament AR-15 Advanced Performance Trigger
Buy Securely at Brownells.com
Often times you will have an improved trigger pull with these systems, or even adjustable pull weight. Yes, you will generally spend more money on a drop-in trigger system, but the quality and ease of installation can definitely make it worth it for your wallet.
Single-Stage vs. Two-Stage Triggers
Now that we have differentiated between standard and drop-in systems, we should also discuss the benefits of both single-stage and two-stage triggers.
A single-stage system is much more common. Mil-spec triggers are single-stage, as well as the ones in handguns, and a vast majority of the stock systems that come in a gun you purchase new. All this means is that the trigger has one range of motion.
From the second you start to pull the trigger to the moment the bullet is fired-it is all one continuous motion. These systems are a bit simpler and tend to be more affordable as well.
It is also what most shooters tend to be used to already, so it cuts down a lot on any extra training that a two-stage trigger may entail.
As for two-stage triggers, you have two different motions when firing your gun. The first stage is lighter and easier to pull, it is also slightly longer than the second motion. The second one is much stiffer and will take a lot more effort to finish pulling the blade back.
For rapid firing, the two-stage triggers are not as desirable simply because it takes more effort and is not as fast as a single-stage system.
However when using the trigger for slow fire, the increased control your fingers have is a definite, serious advantage. The short break when you reach the trigger's wall, or the second motion, reduces any sympathetic movement from your hand.
What Makes This Trigger Unique?
As far as unique qualities go, the pricing is something that the RA-140 Rise Armament trigger has going for it.
It's one of the lowest priced in its range, quality-wise and in general for a drop-in system. We will be talking about pricing and how it comes to other models in the next section as well.
Another unique feature of this product compared to other models from Rise Armament is the curve of the actual blade. It is more curved than other triggers the company offers, like the RA-535.
What this does is provide your hands with guidance for proper placement, making it a great choice for beginners who need to get used to shooting.
It is also a great model for older shooters who have developed bad habits over the years and may need some help changing up their stance for their fingers.
How It Compares
Another important aspect of this system to consider is how it compares to other triggers. From our research, we have gathered that the RA-140 really holds its own against other products.
To make sure that this is the best product for you to purchase, holding it up against other trigger systems can be a great way to weigh all of your options.
Be sure to consider both what your budget can handle, the qualities that are most important to you as a shooter, as well as what type of shooting this trigger will be used for.
As discussed before, the pricing of this trigger is better than just about any other system on the market right now. You won't be able to find something else both this cheap and high-quality from other brands.
In this section, we are going to compare this trigger against both other Rise Armament triggers, as well as other brands altogether.
The RA-140 Compared to Other Rise Armament Triggers
Rise Armament offers several different trigg​​er systems to compare to the RA-140. The RA-434 is the most similar to it- also offering the 3.5-pound pull weight, and the single-stage, drop-in system like the RA-140.
The RA-140 Compared to Other Brands
Most other brands selling drop-in systems were much more expensive, some hundreds of dollars more. The quality to price ratio for this trigger cannot be beaten.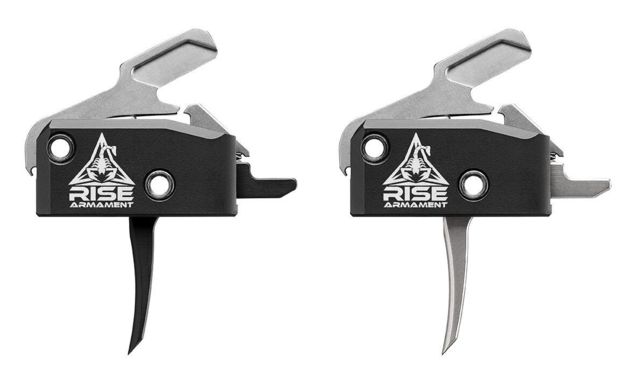 Rise Armament RA-434 High Performance Trigger, .308/.223 AR, Silver, RA-434-SLVR
from: OpticsPlanet, Inc
Another feature that we didn't see in a lot of other models was the fact that the anti-roll pins came with the trigger.
Overall, this model was comparable to other systems at a much lower price. It may not be quite as smooth as the triggers that would cost you twice as much, but it is great for what you pay for it.
What We Think
We were very impressed with this particular trigger system choice. The RA-140 Rise Armament trigger offers great features that will please both beginners and experienced gun owners alike.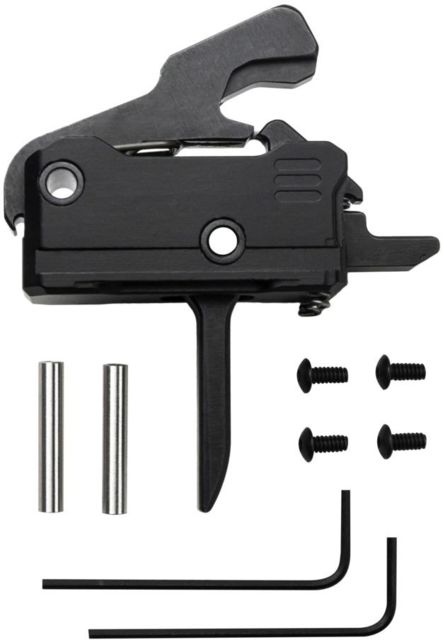 RISE Armament Rave 140 Flat 3.5lb Drop-In Trigger w/ Anti Walk Pins, Black, RA-R140F-AWP
from: OpticsPlanet, Inc
Between the modest price, sleek aesthetics, the curve of the blade, and the countless other features the RA-140 offers, we would definitely recommend this trigger.
We hope that this review was helpful in your search for the best trigger system for your AR-15. If you have used this particular system before, what do you think of the product? If not, is it something you are considering purchasing?